Beanie Wells is officially out. This news coming straight from Jim Tressel, who apparently made a "coaches" decision on the matter of sitting the star RB.


Point blank, Ohio State will now have to find other ways to win this game. I was firm with my decision earlier this season, being that Ohio State would win this game, but that plan also included running Beanie Wells 40 times.

Wells is a horse for Ohio State's offense, literally. One day the NFL will find out exactly what I mean. If there was finally a player that was going to become the second coming of Jerome Bettis, Wells is it, believe me. Hes a half-step slower than Adrian Peterson, but his still deceiving speed is complemented by his raw power, making him a running back that I truly believe, bias aside, will be first running back off the board if he were to leave college this season.

Now, Ohio State is left with bunch of smaller, speed backs, putting tons of pressure on Ohio State's offensive line. They must open up gaping holes for the running game to have any chance to succeed; holes that were non-existent in last week's game against Ohio.

Ohio State, which boasts a very large and highly recruited offensive line, can play to this level, but they'll have to keep pushing when the less experienced backs struggle to find their way around the pile. When holes weren't available for Beanie, his size would carry him for another 3-4 yards, but that just won't be the case this Saturday. This will be a totally new concept for an offensive line that has blocked for Beanie on a very consistent basis these past three seasons, but I expect them to step up.

Ohio State's running game will come around for a few big plays here and there, but I expect them to struggle early. Look for Brandon Saine to make big plays out of the backfield. Saine, 4th on the depth chart at RB, specializes in the passing game, including big plays downfield. Saine often motions out as a WR, while also running the occasional deep pattern straight out of the backfield. This could be a weapon that catches USC by surprise. Beside Saine, I hope and pray that Maurice Wells finally has a good game for Ohio State. Since being a highly recruited speed back out of Florida, Well has done little to nothing, leaning towards the nothing. Wells is good for the big hit …so expect some of that on Saturday night…you know, the kind of hit that makes even the home crowd scream "ewww". If you asked me who Ohio State's worst player is, I'll say Maurice Wells everytime. Prove me wrong Mo.

Ohio State should be fine in the passing department, but Boeckman will have to be quick with his decisions. This is exactly what cost Boeckman and Ohio State a shot against LSU last year, although a good deal of that had to do with amazing LSU coverage.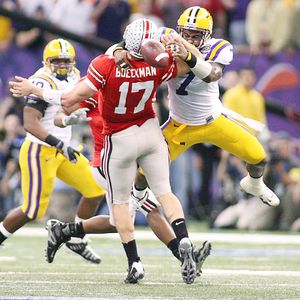 Ohio State is 2 years matured in the passing game, so expect some big plays downfield from experienced players like Brian Robiskie. Look for DeVier Posey, 6'3'', to make a big play in the 4th WR position. Posey has been impressive in his 2 games as a true freshmen, and I see N-F-L written all over his future. Posey's stride and ability to make plays after-the-catch could be crucial as he finds himself in a mismatch in a 4 or 5 WR set.

On defense, expect big things from Malcolm Jenkins (pictured right), providing blanket coverage on whoever he is covering. Also look for Ohio State to drop Jenkins off from corner into a safety or rover position so that he can let loose and make some plays.
Ohio State will get Donald Washington back from suspension this game, so that gives them extra depth at the corner, allowing them to pull Jenkins back for a series here and there. I expect Jermale Hines to be a difference maker on defense. Hines, slotted at LB for the Ohio State, has filled in at safety in recent weeks, even knocking out Ohio U's starting QB last week. Hines is a big hitter and I wouldn't be surprised to see him make an impact hit near the sideline or over the middle. All in all, if Ohio State's offense can manage not to go three and out every series, expect Ohio State's defense to be huge all game long. They are loaded all over the place, with experience from players like James Laurinitis and Marcus Freeman.

On special teams, keep an eye out for Ray Smalls and expect little from Maurice Wells. If Wells returns kicks, expect him to get drilled around the 20. I still don't know why Ohio State allows him to play on special teams, let alone at running back, but you know what, his hair looks pretty cool.


For USC, I don't know enough details, and I'll just leave that up to the Southern California bloggers, they know their team the best. Other than the USC-Virginia game this year, I have seen little of this USC team. I know they are deep at RB and strong at LB. Ohio State should be in for a match-up of a lifetime. If Ohio State's returning senior core really wants to finally win the big one, they better be talking about tonight.