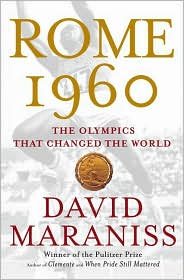 Several programming notes before getting into the bulk of the post:

- Tiger Who? The drama between Harrington and Garcia (and Curtis! come on NBC, throw him a bone) down the stretch in the PGA has been every bit as intriguing as any Tiger-led tournament (the most recent U.S. Open excluded).

- Juan Martin Del Potro beat Andy Roddick today in the Finals at the L.A. Countrywide event. I beg you, yet again: buy into tennis now so that you can fully enjoy it when it blossoms again in two years. Juan Martin Del Potro, Novak Djokovic, Andy Murray, Gael Monfils...all extremely young, all equipped with uniquely sublime skillsets, all primed to challenge the Nadal-Federer hierarchy. Buy in now.

- At some point we will cover this Michael Phelps business. And not just because he looks exactly like our writer Sam. (LATE UPDATE: holy crap. what a relay race. The Phelps Quest for 8 remains intact. wow.)



I was fortunate enough to have lunch two years ago with David Maraniss as he was promoting his new book on Roberto Clemente. For those of you unfamiliar with Maraniss' work, it is safe to say that it is a) impressive and b) addresses topics that are most likely of some interest to readers of this blog. His biography of Clemente may already rest on your bookshelf, and equally enlightening is his biography of Vince Lombardi. There is a certain flair and finality to the titles ("The Passion and Grace of Baseball's Last Hero", "When Pride Still Mattered") that some may perceive as a gray-haired coddling of long-forgotten times and people. But Maraniss' writing seems to always leave one eye gazing into the present and the future, insisting that we somehow make his stories relevant to our current situation. If political reading is more up your alley, then he not only claims authorship of the best biography of Bill Clinton, but counts the ex-President as one of his close friends.

Needless to say, he is an interesting man to chat with over lunch. In a completely polite and un-look-what-I-did! way, he recounted stories detailing both the harrowing endeavor of walking through old battlefields in Vietnam for "They Marched Into Sunlight" and fascinating task of hanging out with a younger, precocious Bill Clinton. When I asked him what he was working on next, he countered with a question of his own: what do you know about the 1960 Olympics?

Ummm...was that the black power fist salute one?

No. That was Tommie Smith and John Carlos in 1968 in Mexico City.

Uhhh...was that the terrorist attack on the Israeli athletes in Munich?

No. That was '72.

Oh. So what were the 1960 Olympics?

The most important sporting event of the modern era. I think. I'm not positive yet. We'll see how the research goes.

(Long pause...)...Oh.

After talking with him about his plan, it seems impossible that no one had ever thought of all this before. Consider: 1960. The Cold War is brewing. Tensions over civil rights in America are bubbling. Television is on the scene as a cultural force for the first time. Doping enters the modern lexicon. Wilma Rudolph asserts the power of the modern woman. A brash young man named Cassius Clay asserts that something big is coming our way. And then there is the story of Rafer Johnson, a man who who Maraniss contends could be the most underappreciated athlete of all time.

Drugs. Media. Communism. Race. Gender.

Oh, and sports, too. As a biographer first and foremost, Maraniss tells the story through the individuals who were present at the time of "the birth of the modern world". It's a book I have been waiting two years for, and it is a book that will likely resonate with any sports fan who either loves historical perspectives or would like to investigate the origins of the current ills plaguing the sports world.

So, in a new "Sports Book of the Month" series that may or may not only last one month, I'm giving August to Dave Maraniss' Rome 1960: The Olympics That Changed The World. Go forth and enjoy.