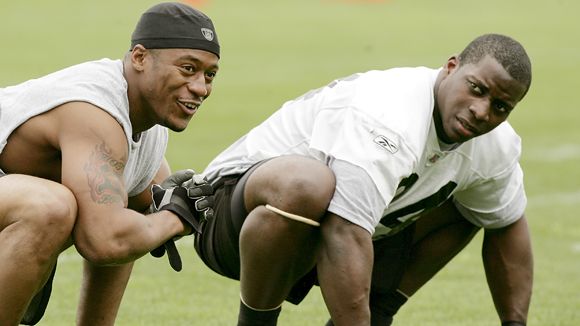 In the weeks leading up to training camp, I will be taking a position-by-position look at the roster. No firm roster projections will be made yet (that will have to wait until the first 53-man roster projection right before camp starts), but I hope to give you a general overview of how things stand at each position. Today, we'll look at the runningbacks/fullbacks.

Estimated Total Roster Spots: 5

Estimated Locks: 3 (Willie Parker, Rashard Mendenhall, Mewelde Moore)

Spots Open/Candidates: 2 (Gary Russell, Najeh Davenport, Carey Davis)

Overview: Depth-wise, what may have been one of the weaker positions on the team is suddenly the biggest strength. This may be one of the deepest backfields in the entire NFL. Let's see what we have here:

- A two-time Pro Bowl selection in Parker, who led the league in rushing late last season. He broke his leg towards the end of the year, but the fibula is a non-weight bearing bone and all indications are he should be 100% by training camp.

- A 1st round draft choice who has everything you want in a runningback and had no business being available for us with the #23 pick. He's a future starter and a prototype three down back that can run, catch, and block. That last one is most important for now, because it means he'll be able to contribute right away. Teams are loathe to play runningbacks until they are ready to understand blocking assignments and opposing pass rushes, and Bruce Arians has stated that one of the appealing things about Mendenhall is that he's a pretty polished pass blocker, which will allow him to come in and contribute right off the bat.

- A guy in Mewelde Moore who will be a perfect 3rd down back. Think of how the Patriots utilize Kevin Faulk. He's the guy that will make the key block on third down to give Brady time. He's the guy Brady looks for when he's in trouble. He's the guy who will catch a checkdown pass and somehow move the chains, even when it seems like the defense has him corralled. These are just a couple reasons why I hate Kevin Faulk and what makes him so good. The Steelers will use Moore the same way. The hope is that Ben will be more apt to checkdown when he's under pressure now that he has a viable safety valve option. In turn, this will hopefully decrease the sack numbers. As an added bonus, Moore is an accomplished kick and punt returner, which will be a much needed boost for the special teams.

That leaves the final spot for either Russell or Davenport. On one side, you've got the veteran who, as Mike Tomlin would say, "has been there and done that." On the other side, you've got a guy who was very impressive last camp and has worked out hard over the offseason, packing on ten pounds of muscle. Two things would make me lean towards Russell:

1) The #4 RB will most likely be de-activated on game days. I'd rather that spot be manned by a player who can take the time to work on his craft, someone who has a future on this team. Russell does, Davenport does not, and at this point I'm comfortable if Russell has to fill in should someone get injured.

2) Davenport is due a $1 million base salary this season. Releasing him saves you that $1 million.

However, Davenport does have a chance to possibly stick at fullback. The Steelers have tried him there during their OTA's, and with the way the offense is evolving, it's a move he could make. The days of Dan Krieder, Jon Witman, and punishing blocking up the middle are over. In Arians' offense, the fullback needs to be able to set the edge and catch the ball out of the backfield. Carey Davis has the upper-hand for now, but he hardly set the world on fire last season and could be supplanted by Davenport if the coaching staff likes what they see of him at fullback during training camp.