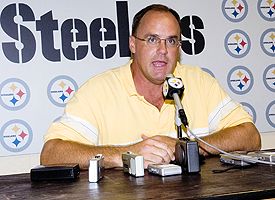 Here's an overview of the Steelers current status on a position-by-position basis. Some specific first day draft possibilities are mentioned, as are a couple of free agents who might be attractive and fit the Steelers mold.


QB: Ben Roethlisberger will be the starting quarterback for the Pittsburgh Steelers for the foreseeable future. His contract extension will be the main priority for the front office this offseason, so look for that to get done. Expect a deal similar to Tony Romo's 6 year, $67 million extension with $30 million guaranteed. Charlie Batch is the perfect veteran #2 QB any team would want. Brian St. Pierre is an unrestricted free agent, and I think it's time to cut ties with him. Initially I preferred the Steelers spending a late round pick on a developmental QB, but with only six picks this year due to the Allen Rossum trade, a better idea would be to sign a couple of rookie free agents and see if you can strike gold there.
RB: Willie Parker should be fully ready to go next season. The fibula is a non-weight bearing bone, so he should also be full speed. I'm absolutely fine with Najeh Davenport and Gary Russell as the backups. However, this draft seems to be loaded with quality backs, with guys like Darren McFadden and Felix Jones (Arkansas), Jonathan Stewart (Oregon), and Rashard Mendenhall (Illinois) all expected to go in the first round. Should one of these backs fall to the Steelers spot at #24, and should no comparable OL and DE options be available, the front office may be hard pressed to pass up such talent. GM Kevin Colbert has mentioned his desire for a two back system, so don't discount this possibility. I always prefer to draft for need in the 1st round, so a first round RB doesn't really appeal to me. But it's a better option than reaching for OL or DL. Reaching causes you to draft players like Troy Edwards.
WR: A fairly solid group overall, but one that could use some improvement. Santonio Holmes will be entering his 3rd year, the year where many wide receivers finally become dominant forces. Expect a huge season from Santonio next year. Hines Ward is getting up there in years, so it's time to start thinking about his replacement. While as of now he's expected to go top-15, Malcolm Kelly (Oklahoma) may be extremely tough to pass up should he slip a bit. Nate Washington is a restricted free agent and will most likely be brought back. Cedrick Wilson costs a little too much for my taste, but I have a hunch he'll be back as well. I've made it known that I'd like a tall target at wide receiver, and the front office will have options should they agree. It could come from the draft via a guy like Kelly or a mid-round pick, or from Dallas Baker, who hopefully has made some strides after a year on the practice squad. One guy to keep an eye on in free agency: Ernest Wilford of the Jacksonville Jaguars. A nice 6'4 target who's a pretty good run-blocker, and the type of modest signing the Steelers typically make in free agency.
TE: This position is capably manned by Heath Miller and Matt Spaeth. It should be given no consideration either through free agency or the draft. Expect the usual suspects (Jon Dekker and random rookie free agents) to compete for the #3 TE spot.
OL: Should be the focal point of the offseason, after Ben's extension. You can reasonably expect Marvel Smith and Kendall Simmons to return to the starting lineup, Simmons moreso because of money rather than ability. Alan Faneca is most likely gone, as is Max Starks, and I've got to think Sean Mahan was so wretched that he'll be relegated to the bench. My feeling is that Colon should be moved to guard. Switching Simmons to LG and moving Colon to RG makes the most sense, due to Simmons ability to pull. That leaves you with C and RT to fill. At C, look for Darnell Stapleton to get a chance. The organization is obviously very high on him, as he came out of nowhere to make the team last year. Right tackle should be filled by a first round draft pick. The tackle class is extremely deep this year, with Jake Long (Michigan), Ryan Clady (Boise State), Sam Baker (USC), Jeff Otah (Pitt), Chris Williams (Vanderbilt), Anthony Collins (Kansas), Gosder Cherilus (Boston College), and Carl Nicks (Nebraska) all projected to go in the top 2 rounds, as of now. Otah is a guy who is projected to go right around the Steelers pick at #24, and is a local product, so he's my predicted pick for right now. Conceivably then, you could have a starting OL looking like this next year: LT- Smith, LG- Simmons, C- Stapleton, RG- Colon, RT- Otah. Depth would include Mahan, Kemoeatu, Essex (re-signed as a restricted free agent), and another first day pick. If you're looking at a free agent target, Titans guard Jacob Bell could be an option. Again, he's the type of modest signing the front office typically prefers.
DL: The rotation at DT is fine with Hampton and Hoke. Not the case at defensive end. It's time to address this spot. Kirschke may be brought back, but Eason should be as good as gone. McBean might be much improved with a year under his belt, but you can't count on it. This position needs to be infused with some youth, and that means looking to the draft. Specifically, it needs to be addressed on the first day of the draft. Many want to go OL in the first round, and I'm in that camp. But if you can find an impact 3-4 DE in the first round, well, then you have to consider it. If you can do that, you can insert this guy as the starter, and let Kiesel become a wave player, where he is much more effective. Additionally, this allows you to move Kiesel back to special teams, where he was extremely effective before becoming a starter on the defensive line. So, a first round 3-4 DE could actually improve two areas. Guys who the Steelers could conceivably target on the first day include: Calais Campbell (Miami, Fla.), Kentwan Balmer (North Carolina), Pat Sims (Auburn), Dre Moore (Maryland), Frank Okam (Texas), and Red Bryant (Texas A&M).
LB: The starting outside linebackers are pretty much set next year with James Harrison and LaMarr Woodley. On the inside, it's getting time for last year's first round pick Lawrence Timmons to see the field, and that could spell trouble for Larry Foote. Competition for that spot will be held in training camp, and with any luck we'll see Foote finally get unseated. Look for a possible starting LB corps consisting of Harrison and Woodley on the outside and Farrior and Timmons on the inside. Depth at this position is lacking, and Farrior isn't getting any younger, so ILB could be addressed around the 4th or 5th round.
CB: Pretty good shape here. Ike Taylor will return to start at one of the spots, and the seemingly annual training camp competition between Deshea Townsend and Bryant McFadden will again be held for the other spot. William Gay had a solid rookie season and provides nice depth. Still, with the modern day offenses and teams like the Patriots spreading it out at will, you can never have enough quality defensive backs. So, it might be prudent for the Steelers to address this in the mid rounds, possibly in the 4th or the 5th. On the other hand, Townsend is on his last legs and McFadden will be a free agent after next season. As of yet, he has not proven to be starter material. Therefore, the Steelers could be compelled to address this position earlier, if someone of there liking falls to them in, say, the 2nd or 3rd round.
S: The core of this position will return, with Polamalu, Clark, Smith, and Carter all expected back. Unless Smith has made some mental strides, we might see Clark back starting at the FS spot. As I said, you can never have enough quality defensive backs, and the position can be upgraded, so it could be improved in the later rounds. If you look back in past drafts, you'll see that a lot of late round safeties made significant contributions in their first years. This is a position you can address late in the draft and still get quality contributions.
Special Teams: Reed, Sepulveda, and Warren will all be back. The Steelers could look to add a few special teams specialists via free agency. Also, look for the guys they draft on the second day to be guys who can come in and contribute on special teams. This hasn't been the case in past drafts, as we've mostly gotten underachievers such as Fred Gibson and Orien Harris or players who lack talent such as Charles Davis.
End of Post