Borrowing from the media's name for the National League Central, the Comedy Central Report is a daily feature which recaps all the previous day's games in which a central team played. Keep track of all six teams vying for the most mediocre division title in baseball.

Pirates: DNP
Of Note: Capps' suspension was reduced from 4 to 3 games. Conveniently, Torres is on the DL so we won't be subjected to more blown saves.

Brewers slay Giants 5-4
Recap: Prince Fielder hit another homerun and the highly touted Yovani Gallardo won his major league debut. Bonds was held without a homer.

All You Need to Know: 47 games until Bonds comes back to the 'burgh. He's currently hitting a homerun every 4.5 games, which means he'll tie Hank Aaron 31.5 games from now (during the middle of the 4th inning) if he keeps this pace. But this is Barry, and he will get injured...chance of Barry hitting the record homer in Pittsburgh? At least there is a shot. But there is a better chance he would'nt even come to Pittsburgh for the makeup games in the ultimate act of bitterness if he was one swing away from breaking the record.

Royals Manage Win Over Cardinals, 5-3
Recap: Odalis Perez twice intentionally walked Pujols to load the bases and twice got inning ending doubleplays. Emil Brown got the start for the Royals, who batted an incredible .218 in his last full year with the Pirates. He is now making 3.45 million dollars. Life isn't fair.

Cardinals Stat of the Day: Jim Edmunds, one of my least favorite players because he makes easy catches seem difficult to look cool, is batting a career low .238 this year.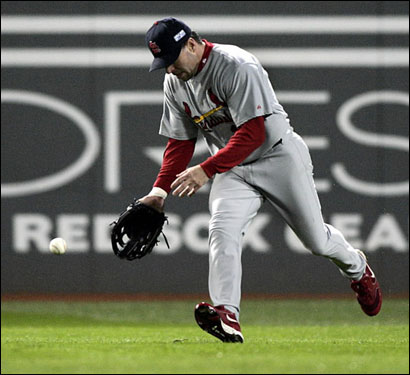 Cubs: DNP

Angels Walkoff on Astros, 10-9
Recap: Chone Figgins capped a 6 hit night with a game winning triple in the bottom of the 9th.

All You Need to Know: The Pirates took sole possession of 4th place without even playing. I think they should adopt this strategy permanently.

A's dispatch Reds, 6-1
Recap: Joe Blanton dominated the weary Reds, as the A's moved into 10th place out of all teams with only the 21st highest salary. Oh, Moneyball.

All You Need to Know: Reds have now lost 5 of their last 6 and are only 1/2 a game back from last place in the major leagues.

Your Comedy Central Standings on June 19th, 2007:




End Post