Due to my blatent pessimism regarding the Pirates, I'm going to switch gears and defy the recent swell of Pirates' loathing from the fans and do my best to write an article about why the Bucs still have a shot to win the division, or at least make it back to .500. It was difficult, let me tell you, but I think there are at least a few decent reasons why we can still have hope until Latrobe. So first watch Bluto's speech that they show at PNC Park to rally a comeback, and then read on after the jump...
Why the Pirates Still Have a Chance to Win the Division (or to atleast make .500).
5. We Still Play Milwaukee 10 times
We have a total of 87 games left to play. 10 of those are against the team that we're trying to catch. Milwaukee defeated the Astros 6-1 last night so we're 12.5 games back. Let's say we win 8 out of 10, that leaves us only 6.5 back. Think that sounds preposterous? If you look at the Brewers' startering rotation it may look that way. With Chris Capuano on the DL, all starting pitchers are righties, which doesn't bode well for the Pirates, who have a team batting average of .250 vs righthanded pitchers and a .274 average vs. lefthanders. But that is only if you look at the surface. A closer inspection of the Brewers' pitchers show that they have two righthanders, Ben Sheets and Dave Bush, who throw like lefties in respect to oppenent batting averages. Sheets' average against righthanded batters is .285, almost 40 points higher than his overall average of .246, while righthanded batters are hitting .320 against Bush, almost 30 points higher than his season average of .292. Moreover, Brewers pitching coach Mike Maddux has told the media they plan on sending young, promising righty Yovani Gallardo to the 'pen once lefthander Chris Capuano comes back, which should be just in time for the Bucs' 4 game home series against the Brewers. We won't get to face Sheets in this series, which can be argued as a plus anyway, but don't assume that the Brewers are such a mismatch after all.
4.
The Pirates play in the NL Central
I realize that the Brewers are playing well, and they be may difficult to beat, but the rest of the NL central should provide ample fodder for any surge that we can muster. We still have 33 games against other Central opponents, and while the Brewers have just as many if not more, I'd rather take a weak division where there is the chance of some type of movement in the standings over a division of strong teams where they regularly beat up on each other.
3.
There's no way everyone will have subpar years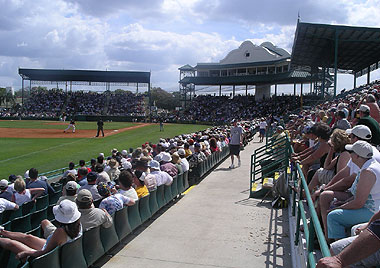 McKechnie Field is filled with new hope that never pans out
Remember during spring training where you convince yourself that if everyone just hits like they did when they had their career year, we have a real shot at this thing? For Jack Wilson, that was 2004, when he hit .308 with 201 hits. For Freddy and Paulino, it was last year. For Chris Duffy, it was the second half of 2005. Then you slowly realize, you're asking for everyone to have career years, and the chance of that happening is slim. But what are the odds of everyone having seasons under their career averages? Seems about the same odds to me, especially considering the age group of this team would point to improvement over deterioration. But here are the 9 regular position players, with their season average first, followed by their career averages:
Only 3 out of the 9 players are batting higher than their career averages, and two of them (Doumit and Bautista) really had nowhere to go but up. Why is this a good thing? Because there is no way this trend can continue. Not every player is going to turn their season around, but the odds of everyone maintaining their atrocious batting is rather low as well. The season is long, things usually even out. Which leads me to my next point…





2. We've hit rock bottom


This is it. The Pirates are 12.5 games back and are currently on a five game skid. Some may argue we could lose 8 more in a row, as we did last year, but I don't see it happening with this team. I'll get to that with my number 1 reason in a minute. I think we've hit rock bottom, maybe because Dontrelle Willis is 2-3 against us in his career and had 2 not-great outing against us in his last 2 tries. But mostly, I think we've hit rock bottom because the we're due for just a little bit of luck. After seeing the Golden State Warriors run off ten wins to finish their season and make the NBA playoffs, I feel like the Pirates' fanbase is owed one of those. A nice little run that gives us hope is something that we've earned in the karma department. It's not like we have the most-promising hockey team in the league, and arguably drafted 2 out of the 3 best players to ever lace up the skates. And we're not fans of a 5-time Superbowl winning team, cheering on one of the most storied franchises in the nations' favorite sport. Oh, right…

1.

We're finally pissed



"I [expletive] hate this. And you can put that in the paper. I [expletive] hate losing. I hate when the team doesn't bring out its full potential. And if they fine me, fine me. I don't care. Because this is getting stupid. We're better than what we're showing." -Ian Snell

"You can't get down, we've got to keep fighting." – Tom Gorzelanny

The mouth-breather never surrenders

Say what you want about this years' version of the Pittsburgh Pirates, but we finally have a few guys who take losing on a personal level. Most of this can be attributed all the players having a stake in the organization, as they'll be here after this year. No more Burnitzes and Randas, who are only in a Pirates' uniform to show the rest of the league they can still play. The ones that I believe still need to work a bit on their attitude are the ones who should be leading the team in the first place, people like Jack Wilson and Jason Bay. Yes, Wilson and Bay say all the right things, but their intentions always seem weak. Take these
quotations
from both of them:
"We do need to show up a little more, in all aspects." – Jason Bay
"A lot of times, when you're in a rut like this, everybody tries to do maybe more than they should." – Jack Wilson
Notice the words 'little' and 'maybe'. Try and contain your anger, gentlemen. Adam LaRoche may be a bust this year, but you can tell this losing is bothering him enough that I'm sure he's taking it home with him to some degree. This is not just a job to him, winning and playing baseball is what drives him. And duck hunting too.
This attitude will hopefully stop this losing streak right now. And maybe with a little bit of luck, the Pirates can still turn this thing around. As Snell said, the Pirates are better than this. They need to start fresh, start acting like this is only 1993, forget about their past failures and start believing that they should win and when they fail make sure they redeem themselves the next day. As I asked you before, remember all the good feelings about this club in the spring? Well, they are not that good, but are they this bad? I doubt it. Is going 13 games above .500 the rest of the way going to be tough? Yes, but
stranger things have happened.
End of Post